My interesting life
· #misc
I got this on Yahoo Messenger some time back: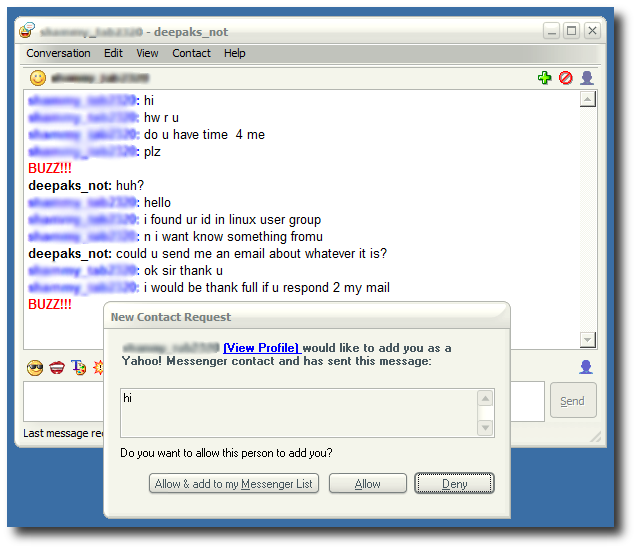 This happened when I was at work with my messenger status set to Busy. And then he never even sent me that email! Please tell me your lives are as interesting as mine.
That incident has prompted me to remove my Yahoo Messenger id from my home page. And while I was doing that, I updated the Whose Sounds page and also moved the Quick Links to the top of the main blog where the long text looks better than in the sidebar.
And now, to make this entry at least slightly interesting, I'll leave you with some of the more quirky search queries used by folks to access my site in the last couple of days.
love status messages
iit iitians life (rich iitians is another popular query)
marathi girls (usually it's mallu girls)
classics mark twain quote
war of the worlds sounds (sound searches are very common)
orkut hyderabad
mischa barton
movie ratings guide explanations for 28 days later
related:berserk.org/codejam/2005/grid.html
PS: How many of you read my blog in light colours and how many read it in dark colours. Can I stop maintaining the light colours stylesheet?
PPS: How many don't care 'cos they use a feed reader? ;-)