Writr :: Simple Markdown Writer
Writr is a simple editor geared towards writing of Markdown syntax formatted text. I wrote it and now you test it. Fair, no?
NOTE: I don't maintain Writr anymore. Consider it abandonware :-)
Writr's Goals
Be simple and obvious to use
Suck less than Notepad
Teach me PyGTK
What works now
Text editor with cut, copy and paste
File opening and saving
HTML previews after Markdown conversion of text
Still to come
The following things, listed roughly in order of priority, will show up in future releases.
Undo and Redo
Search and Replace
Status bar that shows some status
Win32 binary
World domination FAQ
Download
Writr needs Python and a fairly recent release of PyGTK to run. It also depends on python bindings for GTKHTML2 which currently ship with gnome-python-extras.
Writr is © Deepak Sarda and released under the GNU GPL.
Screenshots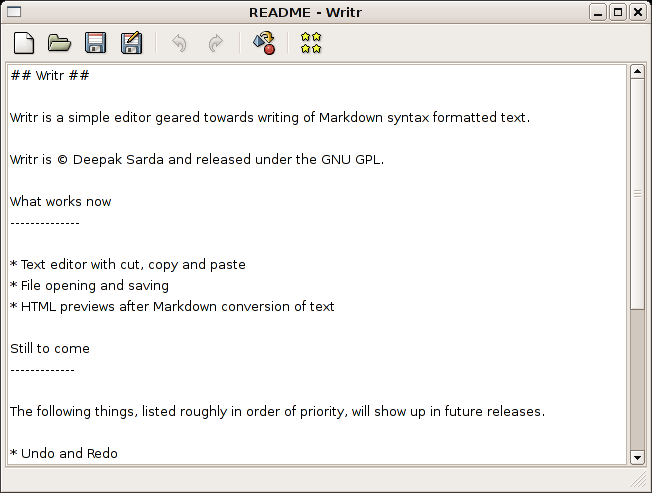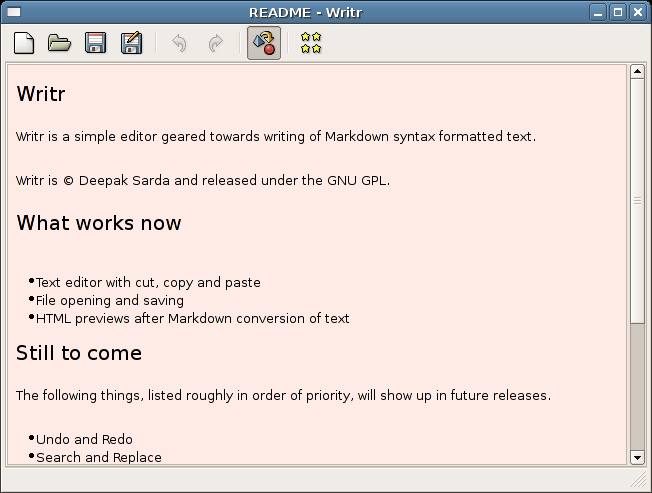 Thanks!
Thanks to all the people behind Python, PyGTK, and Python Markdown. Special thanks to the Scribes project from where I took lots of ideas and a bunch of code. Finally, big thanks to Sandino Flores for writing SimpleGladeApp and dozens of PyGTK example programs.