Nokia N73 :: First Impressions
As I noted on the mini, I lost my mobile phone sometime ago. Since then, I've been researching the currently available models & this Saturday, I finally bought a Nokia N73. Here are my thoughts so far.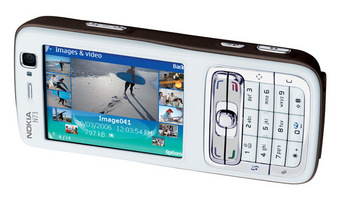 First of all, the N73 is a beautiful phone that just exudes Quality. Smooth, clean lines & elegant styling. The aluminium grills covering the stereo speakers add that extra touch of class. The build quality is excellent: everything feels firm & in its place… a bit too much in its place, maybe. It took me some time & hard fiddling to open the case to install the battery & the memory card. Also, it would have been nice if the sliding shutter cover on the back fit flush with the body. It's not a big deal, though.
One thing that could certainly be improved about the design is the keypad. It feel rather cramped especially since this is a smart phone wherein heavy text input is expected. Further, I had been using the fully touchscreen Motorola E680 for the past year and half. It is taking some effort to get used to keypad based typing and the cramped N73 keypad isn't helping. The joystick is a bit hard too.. a sore thumb after long game play sessions shouldn't be surprising!
The big, attention grabbing screen is really beautiful and is easily one of the best I've seen. The phone has an ambient light sensor which is used to adjust keypad back-lighting & display brightness. This means that the screen is usable even under bright sunlight.
So lets get to the meat of this phone: the 3.2 megapixel camera. The whole slide it open deal imparts a real camera like feel to the phone. Now if only it didn't take almost 2 seconds for the camera to start up, I would think it's just a regular digital camera. The photo taking options are impressive: picture modes, white balance, ISO setting, exposure compensation, etc. The image management application is pretty good and the slideshow using the Ken Burns effect is cool too.
The pictures come out great for a camera phone but they could be so much better if it weren't for the extremely aggressive noise reduction that Nokia has used here. Take a look at this photo of bowling balls to see what I mean. But people have been taking great photos with the N73 so I guess I'll put it down to bad lighting or something for now.
I uploaded that photo of bowling balls using the integrated send to Flickr functionality in the N series phones. When I uploaded it, the phone just kept waiting for the upload to finish. I checked Flickr and the photo had been uploaded; just the title hadn't been set. I'll try another upload sometime and see how it goes.
The phone can be mounted as a USB drive so I had no trouble transferring photos to my Linux running computer and had no need of any special software. Nevertheless, I'll be installing the Nokia PC Suite at work to get our Outlook calendar syncing.
The phone ships with a quick start guide, a special camera mini-guide and a user manual. BTW, it says something about our mobile phones today when the user manual delegates 'making voice calls' to be the sixth or seventh chapter, way after 'taking pictures' & 'managing calendars'. :-)
The software seems to be the pain point for the phone. I've had one crash so far apart from a couple of 'Out of Memory' errors. The N73 is based on the Symbian 9.1/S60v3 software platform. This is a relatively new version and I guess quite a few field encountered bugs are yet to be fixed. Nokia does release updated firmwares for its phones but there's no updated N73 firmware yet.
Speaking of software, the Symbian/S60 platform is a whole new universe to explore & I am having fun digging in. I plan to create a page dedicated to my explorations sometime soon. Update: My N73 page is now online.
In the meantime, keep an eye on my Flickr stream for more N73 uploads :-)