Observations on the Ricoh Caplio GX100
As you may or may not know (why not?!), I've had a Ricoh Caplio GX100 for a couple of months now. Long enough for me to be comfortable calling it just GX100. We are buddies now.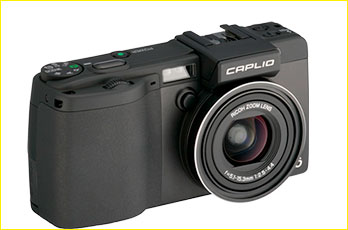 Anyway, I think it's about time I blogged about the camera. It's a good excuse to do it too considering the silence lately around these quarters.
So what's good about this camera? It's small, it's fast. It's there and ready when I need it. So when I come across good photo opportunities, I don't miss them for want of a camera. Like this one which was taken one morning on the way to my office.
As the old saying goes, the best camera is the one you have in your hand. And this best camera is not just small and fast and in my hand, it takes damn good photos too! Plus, I just love the 24mm wide lens. A few more months working with this and I think I'll have to get the 19mm adapter. One thing though: after getting used to the Panasonic FZ30's enormous zoom (35-420mm), I do have to adapt my shooting style to work within the limited 24-72mm range.
The ergonomics of the GX100 are fantastic. It's great to hold, all the dials are in the perfect place and the software is intuitive and clutter-free. In fact, the controls are the best I've seen in any camera so far. No amount of explaining here will do it justice. You have to pick one up and play with it for some time.
The GX100 takes beautiful macros. I could describe here how sharp the in-focus elements are or how nice the bokeh is but I suggest you just see some of the macros I've uploaded so far. Sure the focus hunts when in macro mode but do you really care about that? It's not like your subject is going to get up and leave!
Overall, I'm very pleased. So now it's time to talk about some downers.
The biggest short-coming is that the GX100 suffers from a rather limited dynamic range. You really have to keep a close eye on the histogram to make sure you don't blow out the sky or something else. I still haven't been able to take a good sweeping vistas kind of shot where everything from the sky to the landscape is properly exposed. Which is a real pity considering the 24mm wide-angle would be really great at taking such shots. Then again, I see several good landscape photos taken with the GX100 on Flickr so perhaps it's just something that I haven't figured out yet.
Another quibble I have is that if you are shooting in low light in Program or Aperture Priority mode and the required exposure duration is longer than a second, the software just refuses to set that. One second exposure it is, no more! It was only after being left with a few rather under-exposed low-light shots did I realize what was happening. Since there's no Shutter Priority mode (or Tv mode for Canon lovers!), you have to go to full manual to work around this gotcha. Of course, since the GX100 has separate dials to control aperture & shutter speed, using the manual mode is no chore.
Yes, you heard that right. Full manual control with two separate dials in a compact camera!
What else? Not much actually. To sum up, it's a great little camera which may or may not be a bit expensive for your budget. It won't replace your SLR but if you are the kind who shoots with a SLR, you ought to look at the GX100 as a companion camera. Interesting anecdote: I was all set to buy a second hand GX100 from a local photographer. Price and date of transaction were fixed. On the night before the camera was scheduled to exchange hands, the guy tells me he's decided against selling it. When I asked why, he explained that he really liked the macro capability of the GX100. Since he liked taking macros, he could either buy a reasonably good macro lens for his SLR at $300+ or just keep the GX100 as a macro camera while having his SLR for other shots. With the GX100 around, he wouldn't have to swap lenses on his SLR whenever he felt like going macro. True story!
However, if you aren't really into photography and are looking at the GX100 just for its compact size and wide angle capability, I suggest you stay away. Its quirks will be enough to make you think that you just threw away good money at this no-good piece of Japanese thrash! You really have to know what you are doing when using this camera. Case in point: the GX100 flash isn't going to pop-up by itself in low-light - you have to decide whether you want flash or not.
On the other hand, the same quirks would make the GX100 a good learning tool for someone who wants to get serious about his/her photo taking but isn't too keen on carrying a kilogram of photo gear around.
As for me, I think I'll have to start looking at those Pentax SLRs sometime soon!